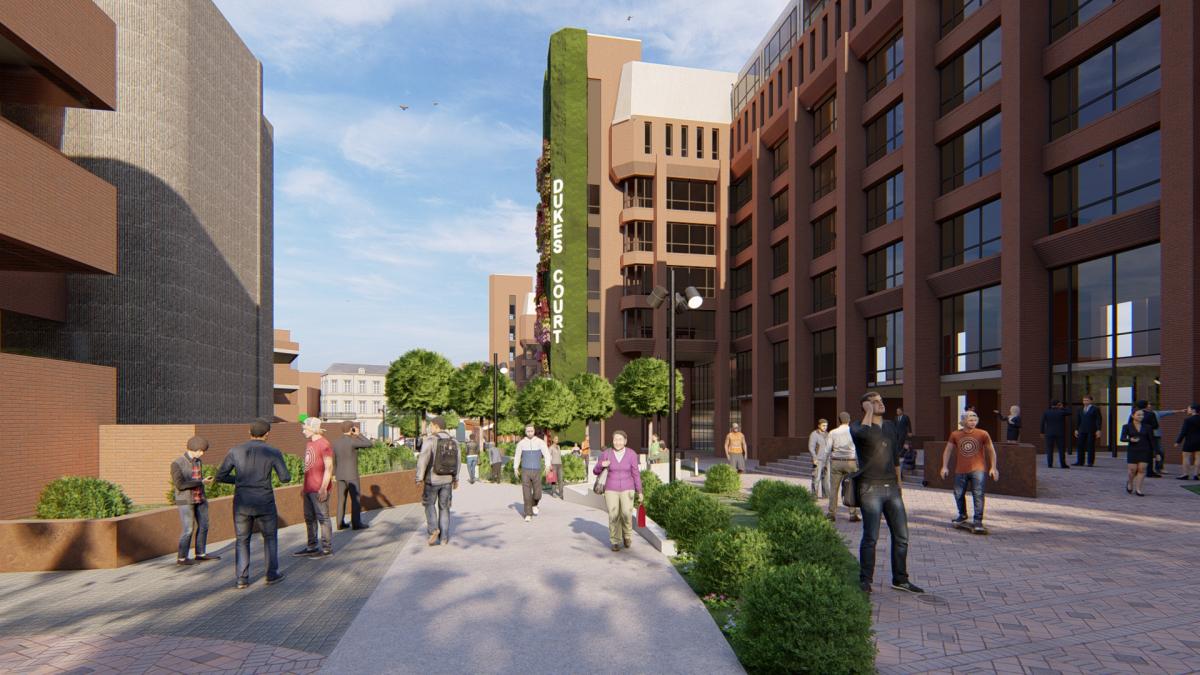 Development works at the Dukes Court site are progressing steadily, creating a contemporary public plaza, highway improvements and commercial amenities to transform this quarter of Woking town centre's business district.
Built in 1986, Dukes Court was viewed as a symbol of Woking's economic growth, offering 220,000 sq. ft. of premium office accommodation. Now these works will ensure Dukes Court continues to play an important role in the town's future.
Features include:
A larger than life statue of composer and suffragette Dame Ethel Smyth will proudly conduct passers-by in the centre of the pedestrianised plaza.
New landscaped pedestrianised public plaza along Duke Street, between the junctions with Locke Way and The Broadway, creating a pleasant, welcoming open space for tenants and members of the public to enjoy.
New restaurant with piazza for external seating, green roof and living wall screens, whilst a huge living wall helping to improve air quality by trapping and capturing pollutants,
Living 'green' wall installed on Dukes Court central core helping to improve air quality by trapping air pollutants.
New signage and pedestrian routes which will enhance the visitor experience.
Relocation of main vehicle entrance from Dukes Street to Stanley Road
Maybury Road, Stanley Road and The Broadway junctions improvements.
Take a tour of Dukes Court Plaza
Phased development
Construction works began in November 2019 and are to be conducted in phases to minimise disruption. The full works schedule is as follows:
Phase 1: November 2019 – August 2020
Site clearance and drainage works
Commence construction of restaurant.
Resurface parts of Duke Street, Locke Way and Chertsey Road.
Resurface pedestrian footways with grey granite block paving already used to great affect across the town centre.
Create new drop-off/pick-up area outside Dukes Court main entrance.
Create five new disabled parking bays on Duke Street.
Phase 2: May 2020 – January 2021
Close Duke Street from junction with Locke Way and The Broadway.
Site clearance and drainage works outside Elizabeth House.
Remove existing highway surface to enable landscaping works for pedestrianised plaza.
Install living 'green' wall on Dukes Court central core (September 2020 – November 2020).
Completion is expected early 2021.
If you have any queries regarding this project, please email wokingitp@woking.gov.uk