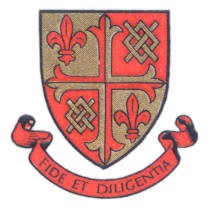 The coat of arms was granted to Woking in 1930.
The heraldic description of the arms is: Quarterly gold and gules, a crossflory between; in the first and fourth quarters a fleur-de-lis, and in the second and third quarters a fret, all counter-changed.
The motto is: Fide et Diligentia or By faith and diligence.
The Woking coat of arms is made up of extracts from the arms of past holders of the Manor of Woking.
The cross forming the centre is that of Edward the Confessor and the red and gold colouring of the arms is taken from the coat of arms of the Bassett family, to whom the Manor was granted by King John.
Following the death of Aliva Bassett in 1281, the manor was passed to her son, Hugh le Despenser. It is from the coat of arms of the Despenser family that the frets in the second and third quarters were taken. The fleur-de-lis in the first and fourth quarters were taken from the Beaufort coat of arms, the Manor passing into the possession of the family in 1416.
Margaret Beaufort, mother of Henry VII lived at Woking Palace and her grandson, Henry VIII also resided there from time to time.
Today's logo
We now use a simplified version of the coat of arms as the official logo. The logo is printed on all of our publications and literature.
The original coat of arms is still used by the Mayor and appears above the civic entrance of the main council offices, and on civic literature and documentation.
Contact us
If you would like to request the use of Woking Borough Council's logo, please contact our marketing communications team.
Email: marketing.communications@woking.gov.uk
Phone: 01483 755 855