Date:
Thursday, 7 November, 2019
A blue plaque honouring internationally acclaimed musician, songwriter, composer and former Westfield resident, Les Reed OBE, was unveiled by the Mayor of Woking, Cllr Beryl Hunwicks.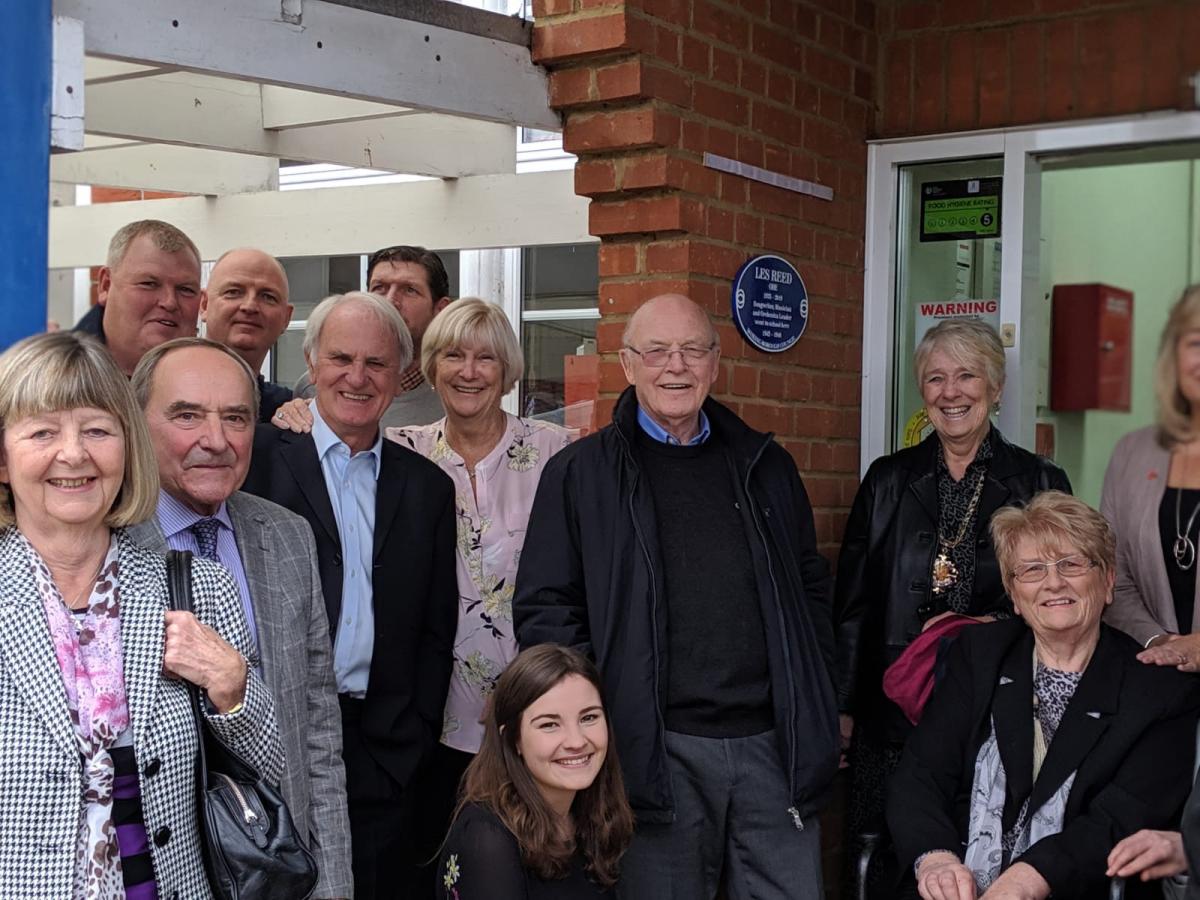 Cllr Hunwicks was joined by Les' daughter, Donna, for the unveiling at Moorcroft Centre for the Community, his former school in Old Woking, on Wednesday 6 November 2019.
Following the short ceremony, a tea dance celebrating Les' many iconic songs was held for members of Moorcroft and specially invited guests.
After the unveiling, Donna, said: "My father would be very proud to have been honoured with a blue plaque on the side of his old school. He would always recall fond memories of his childhood spent in Westfield, so it's wonderful that there's now a lasting memory of my father's achievements. I hope it will inspire others to follow their passion as my father followed his."
Cllr Beryl Hunwicks, added: "It's a privilege to recognise Les, a local boy who grew up to become one our most accomplished song writers. Many of his hit songs bring back so many happy memories from my youth. It was a real pleasure meeting Donna and reliving Les' greatest hits.
Obituary
Les was born in Granville Road in Westfield. He went to Westfield Junior School - now Moorcroft Centre for the Community.
One of Les' first jobs was at Kenwood in Woking before going on to study at The London College of Music. After completing his studies, Les formed the Willis Reed group with good friend, Peter Willis. Les played in several bands, most notably as pianist for the infamous John Barry Seven until his song writing career took off in the mid 1960s.
Les co-wrote It's Not Unusual, Delilah, The Last Waltz, Love Is All, There's A Kind Of Hush plus many more hits made famous by the likes of Tom Jones, Elvis Presley, The Carpenters and Engelbert Humperdinck. He also wrote numerous radio jingles and film scores including Girl on a Motorcycle, featuring Marianne Faithfull. In total Les wrote over 2,000 songs in a song writing career that spanned more than 40 years.
Aside from over 110 Gold and Platinum discs and Grammy awards, Les received numerous accolades including 11 prestigious Ivor Novello awards and was also extremely proud to have been awarded The Freedom of the City of London and an OBE for his outstanding contribution to the British Music Industry.
In more recent years Les received a BMI (Broadcast Music Inc.) Award for over five million plays of It's Not Unusual on USA radio, that's equivalent to 19 years continuous airplay!
Les resided in Hampshire up until his death in April 2019 at the age of 83. He is survived by his daughter, Donna and two grandsons, Alex and Dominic.